Intriguing 2020 Retail Interior Design and Renovation Trends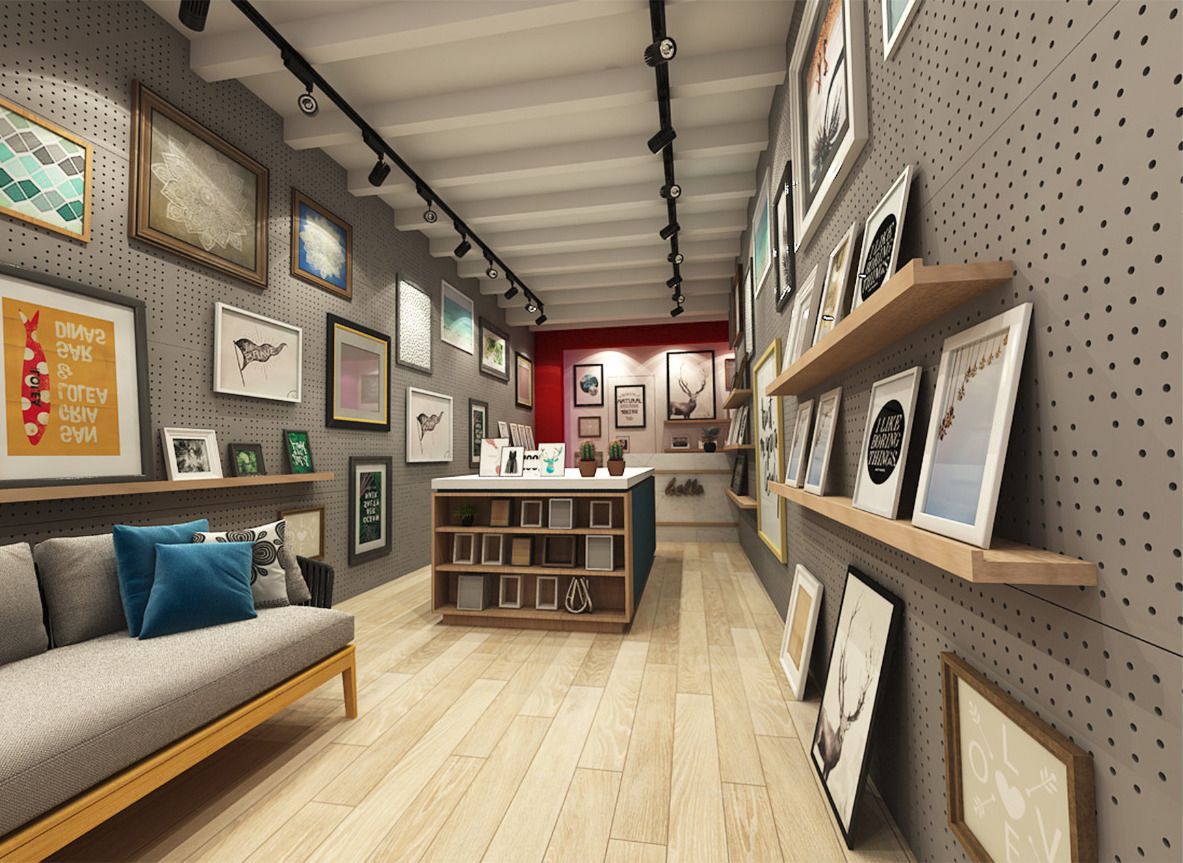 Retail spaces aren't static. They change all the time because of brand new-consumer needs and rapidly evolving ways in which people shop. Anyone who does shopping at a couple of favorite spots can tell that they're going through regular transformations periodically.
So, what will these retail interior design transformations look like in 2020? Are there going to be some defining retail interior design trends? The short answer is yes. Let's examine a few of these trends and the most important reasons for their prominence in 2020 and beyond.
Experiential Interior Design
Experiential design has been around for some time and it will potentially grow huge in 2020. The term refers to ensuring some kind of experience whenever a person visits the retail space. This is often accomplished through the use of technology or smart décors that are interactive and that can get store visitors engaged.
Take the Vans store in London as an example. Vans has long been positioning itself as a streetwear brand. It embraces urban culture, youthfulness, and an active lifestyle. All of these elements are featured in the Vans retail experience.
The company's store brags a café, live music and even an art gallery. The true magic, however, is hidden on the lower level underneath the store. This is where the company has its concrete ramp, as well as mini ramps and a street course.
All of these provide young people with opportunities to spend a ton of time in the store and more importantly – to interact with the brand in a way that's meaningful and that's reminiscent of the corporate values and beliefs.
But of course, experiential does not have to mean the latest in technology or gimmicks, it could simply start with a concept of the world you want to transport your customers to. For example, we created this model of a retail shop selling frames with the experience of being in an art gallery below.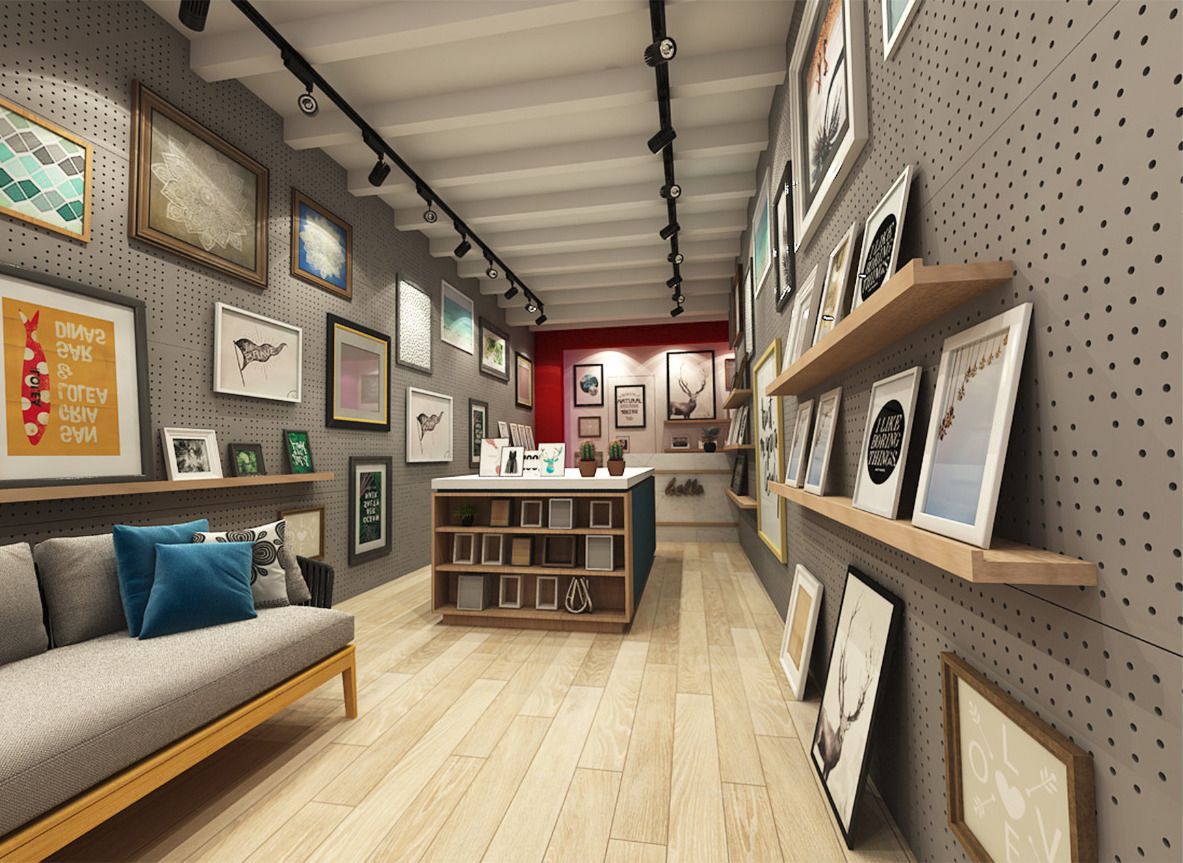 This 3D model features
A wall panel that shows off the different frame products as they might be used in a gallery
Track lighting positioned to enhance how the customer experiences the artwork.
A cozy waiting area at the shop front that feels like a resting area in an art gallery
A long cabinet island in the center for discussion that at the same time acts as a product display.
Bringing Nature Inside
The world is becoming increasingly environmentally-conscious. Stores are responding to this new level of awareness by changing packaging, choosing more sustainable product materials and even bringing nature inside the store.
Greener retail interior designs will continue growing bigger, bolder and more creative.
Biophilic design in 2020 will play a central role in the world of retail spaces. Getting in touch with nature can be accomplished in more than one way – having flowers inside, using natural stands like those made of wooden trunks and even creating entire green walls or vertical gardens.
Sunshine, water and other natural elements create a peaceful and serene experience, encouraging people to dedicate more time to their shopping.
Retail Interior Design and Social Media Outreach
Through their retail interior design choices, companies are encouraging their consumers to do some social media marketing on behalf of the brand.
Huda Beauty is one example of a company that achieved spectacular results with a very basic décor choice. For the launch of a brand new eyeshadow palette, the company features space-themed elements in its store, as well as a throne that visitors could sit on, take pictures and share those in their social media profiles.
As you can see, the décor elements do not have to be massive or expensive to encourage social media shares. A visit to a brick-and-mortar store can easily become an experience to brag about online. Experienced retail interior designers know exactly how to sway visitors in the right direction.
Smaller Spaces
Online shopping, without a question, is taking over the world. Because people are increasingly turning to the online realm for their purchases, actual store spaces are beginning to shrink. Many companies have chosen to reduce the size of their store and offer a niche experience there, while everything else remains readily available online.
IKEA, for example, turned its New York City store into a planning studio that allows for innovative interactions with the brand.
In essence, the purpose of the retail space becomes supplementary. It offers something on top of the online experience, something that the client cannot get from a website. When these two work well together, the brand stars to offer the ultimate form of customer service.
More and More Technology
While new technology is an obvious element when it comes to the retail interior design of the future, it's so important that it has to be mentioned separately. Technologies are becoming more diversified, which means that just about every retail space can be fitted with a solution or two that happen to be relevant for the respective audience.
Smart mirrors, store trackers, virtual, and augmented reality are all starting to play a role in the retail design world. The same applies to on-demand 3D printing and real-time data gathering to make sure that shelves are stocked with the products that clients demand the most.
Obviously, technological solutions have to be based on the specific demographic's needs and on the overall store design concept. When chosen carefully and when it adds to the functionality of the experience, technology can take retail interior design to the next level as far as engagement goes.
Retail interior design is becoming bigger and bolder than ever before. At the same time, it's making use of smaller spaces, which contributes to an interesting contradiction and a challenge that design professionals have to overcome.
The trends mentioned above are just a few of the ways in which retail interior design solutions will be executed in 2020 and the coming years. This little glimpse into the store décor world, however, is truly exciting and colourful and can definitely be also adapted to office interior design and renovation as well. We cannot wait to see what else we're about to witness in the near future as brands try to offer a more personalised, immersive and experience-based solution to brand fans.